AMERICAN CINEMA PAPERS
<![if !vml]>

<![endif]>PRINT ARCHIVE
2002
<![if !vml]>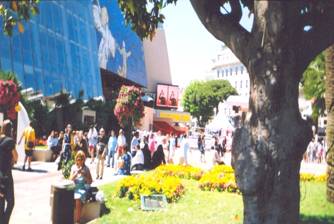 <![endif]>
<![if !vml]>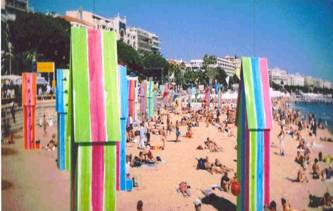 <![endif]>
<![if !vml]>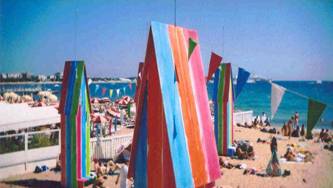 <![endif]>
<![if !vml]>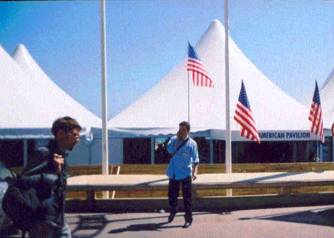 <![endif]>
CANNES 2002

 

GOLDEN PALMS
THE 55th INTERNATIONAL FILM FESTIVAL
by
Harlan Kennedy
The great, the grand and the gaga. The new, the nude and the numinous. What a wonder of the world is the Cannes Film Festival. There is nowhere like it except possibly (who knows?) Mars or Europa, on either of which the fifty-five searchlights on the Croisette might have been seeking signs of life as they waved in the Cannes night in one of the most spectacular son et lumiere stunts the festival has ever staged. 
I nearly tripped over my Gucci bootlaces – we all did – on that opening night. It was 2002: A Space Odyssey. The lights raked, danced and skittered, using the clouds as a writing slate when not piercing through to the stars and planets beyond.  The stars on the ground, who included jury diva Sharon Stone, French nymphet Virginie THE BEACH Ledoyen ("I will appear nude", though she didn't) and event-opening Woody Allen ("Je declare cette festival – ouvert"), sparkled hard to beat off competition from the Universe. Somewhere in between wandered the ghost of Jacques Tati, furloughed from Heaven to survey the beachfront installation devoted to the great screen comedian and his 50-year-old masterpiece MONSIEUR HULOT'S HOLIDAY: stripe-colored beach huts standing in scattered, enchanting sentry duty, and an open-air screen detonating with clips from the movie. What a birthday present.
Yes, the 55th Cannes Film Festival was all over the place, like a quark in cyberspace. And no wonder. The globe's most famous cine-junket is contemplating, inter alia, the mighty changes confronting the seventh art in the third millennium AD. Number one: film projection ain't gonna be what it used to be, as George Lucas lectured us in a press session on the digitization of movie theaters and as Cannes illustrated with digi-showings of both STAR WARS II ('CLONES') and the new DreamWorks animation SPIRIT: STALLION OF THE CIMARRON. Number two: fiction can't always outgun fact these days, as witness the standing ovation accorded Michael Moore's BOWLING FOR COLUMBINE, the first documentary feature invited into the competition for over 40 years. The French go mad for anything anti-American, especially when served up as rumbustiously as by Moore. Number three: at this point in movie history the hoopla around a film is often more compelling than the film itself, which is either a triumph for that modern Satan, PR, or a fact of life in an age when postmodernism reigns and attention deficit syndrome is something we're all born with.
So Woody Allen's press conference upstaged Woody Allen's film. (Not hard when the film is the patchy HOLLYWOOD ENDING and the press confab is the first ever granted to a Woody-hungry Cote d'Azur). Martin Scorsese bringing 20 minutes of GANGS OF NEW YORK got more limelight than many a director bringing a 3-hour magnum opus. And the great Cannes recreation itself – rubbernecking at the Palais steps as the famous ascend the red carpet – has become an art form sui generis. It eternalizes the transitory in a frozen spume of time. And it is now turned into screen spectacle itself, with the main-house Salle Lumiere transmitting live these very images – crowds, stars, paparazzi – before each showing. An amuse-gueule preceding the main feature, and often more amusing than the main feature.
What can a poor traditional motion picture do to compete? Some competed by holding fast to their creators' strengths, like Mike Leigh's ALL OR NOTHING, re-solemnizing the Britwizard's genius for giving plain folk the kiss of comical-dramatic life. Others, like Paul Thomas Anderson's PUNCH-DRUNK LOVE in competition or Carlos Reygardas' JAPAN in the sideshow Directors Fortnight, threw convention to the mistrale and invented whole new vocabularies for a whole new century.
Were these the three best flicks? Certainly in week one. Leigh aims his grunge-tinted binoculars at three sets of neighbors in a South London housing estate, principally cabby Timothy Spall and family. Common-law wife Lesley Manville works at a supermarket; their girth-intensive son and daughter look as if they daily eat its contents. Rows, misunderstandings and non-sequitur riffs on everything from God to football are the daily rote, while the weirdoes impinging from neighbor walk-ups include a rival cabby and his vodka-sloshed wife, a sex-mad girl who endangers anything in trousers, and Manville's colleague at the Safeways checkout (Ruth Sheen from Leigh's HIGH HOPES) whose chinless, toothy looks hardly lead us to expect her to sing like an angel – as she does – at the local karaoke joint.
Nor from the early knockabout would we predict, with any other helmer, the final-reel switch to anguish and revelation. But as in Leigh's last Cannes offering, the Golden Palm-winning SECRETS AND LIES, the family that cracks up together gets its act together. Spall and Manville react to a cardiac crisis in their midst by re-monitoring their own hearts, by finding the beat, hope and bloodflow in a relationship that seemed to have gone loveless.
Nearly everyone looked for love at Cannes, though finding it in varied, unlikely places. After BOOGIE NIGHTS and MAGNOLIA we thought Paul Thomas Anderson couldn't make a film under 3 hours. But PUNCH-DRUNK LOVE is a 90-minute flash of light starring Adam Sandler as a dodgy businessman – anything that falls off a truck ends up in his office-warehouse down an LA cul-de-sac – who finds wisdom and romance (Emily Watson) by 'fessing up about his inner demons. To her; to us; to himself.  Smashing glass, screaming at any of his seven sisters, building mile-high mountains of purchased supermarket puddings just to get the Frequent Flyer coupons (we've all been there): these are a few of his favorite things. 
It becomes very Herman Melville: the nutter as epic Everyman (see BARTLEBY). But Anderson and Sandler give their hero a startling charm and sweetness, and as a comedy of unravelment – though just like Leigh it finds a way to re-ravel – it combines populist good timing with the avant-garde touches we expect from Mr Magnolia. Many hated, but I loved, the discordantly drumming soundtrack which sounds as if Gene Krupa and band had been serially thrown, still playing, off the back of moving trucks.
UN CERTAIN REYGARDAS
In Mexico's JAPAN love and self-realization come at the top of a mountain range. To the high plateau country comes a grizzled, aging artist (Alejandro Ferretis) hoping to put his soul in order before dying. Guess what? He meets a broad. Only variance from expectation: the broad, who owns the bleak cottage where he crashpads, is even older than he. Wizened and wrinkly, an all-wise Amerindian, she goes with the landscape: a fabulous scarified sertao of rocks, scrub and gesturing cacti, with a coldly infinite sky.
Director Carlos Reygardas moves his camera around like Tarkovsky. There is no such thing as abstraction: a tree is a child is a stone is a sky is a human face. We have no idea what story he is telling until we realize he isn't telling one, that what you see is what you get (or don't 'get'). Yet we have no desire to leave or fidget, for it is all so vision-renewing. Madly, we witness a sex scene between the two oldies, him and her, which resembles the wrestling match of two plucked chickens. Then the house is knocked down by workers who talk about how poorly they are treated by "the film." Finally we escape to a horizon-reaching rail line cradled in a dazzling valley, where the camera does its last circling, lyrical explorations, among grass and sleepers and mysteriously strewn human forms hinting at accident or cataclysm. Did we say sleeper? This film was the first at Cannes 2002.
Sexual candor is ubiquitous in modern cinema, of course, and it isn't going away.  But it is evolving and changing. Even Catherine Breillat, French scandaliser of ROMANCE and A MA SOEUR, has moved into post-ironic phase with her graphic couplings. Witness SEX IS COMEDY. This opened the Directors Fortnight, Cannes' countercultural cine-binge, and got laughs – albeit nervous one – from the tale of a woman director (Anne Parillaud) choreographing the coital motions of a two shy young stars (Gregoire Pascal, Roxanne Mesquin).
Elsewhere Korea fielded the original and likable TOO YOUNG TO DIE. This corrals two oldies even serer than those of JAPON into 'getting it on' for the camera, in a touching tale of 70-something romance enacted by the actual twosome on whom the truth-drawn tale is based. The sex is startlingly matter-of-fact, though the bodies are as imperfect as you'd expect in two humans scorched and fissured by seven decades of worldly wear. They don't just make love, though. They court, quarrel, eat, laugh, kiss and do everything else couples do. What makes it all amazing is that they have a half-century start on almost anyone else we have seen doing such things in cinema before.
From sex it is a short step to violence, as we see each year at Cannes. Beautiful stars are mobbed by crowds, strafed by flashbulbs, lashed by fashion protocol (dresses must be haute couture but also Mediterranean-sexy) and stripped bare by interviewers wielding that most phallic accessory, the microphone. The hacks pin their victims against photogenic views of the Croisette while asking such merciless – or mercilessly predictable – questions as "How do you like being in Cannes?," "What parties have you been to?" and "How did you like working with Michelangelo Antonioni/ Olivier Assayas/Jerry Lewis/Joseph Mengele (delete the inapplicable)?" (And they told me).
Women are seldom raped in full view on the fiction screen, of course. But every rule has exceptions. This year's was IRREVERSIBLE, a gasper from Gaspard Noe (last celluloid conviction, SEUL CONTRE TOUS). Here a wound-back narrative gives us the tale, starting at the end and moving back to the beginning, of a girl ravished in an underpass and her boyfriend's bid to avenge her. Monica Bellucci gets the 10-minute rape sequence, shafted by a thug and then bashed by him about the face. Awful. But so was the movie, which left this bloody oasis of realism sitting alone and incongruous amid a desert of ill-nourished storytelling and whirly camerawork.
Abbas Kiarostami's TEN from Iran and Olivier Assayas' DEMONLOVER, otherwise as unlike as chalk and Semtex, also dealt with violence to women. Abbas processes the theme in a clever, pedagogic fable. Camera never leaves interior of moving car as a woman drives round city streets dialoguing with serial passengers – fractious son, grief-stricken sister, prostitute – and turns the film into a finespun web of insights about work, love, family and sexual politics in Ayatollah-land. For the French director of IRMA VEP, by contrast, man's inhumanity to woman is featured – or featherbedded - in a meretricious chunk of industrial-spying mayhem starring Tinseltown starlets Connie Nielsen and Chloe Sevigny, up against everything from sexual assault to cyanide pills as they battle male chauvinist empire-builder Charles Berling. Rubbish, booed to the rafters even by the French.    
GANGS AND GONGS
The best violent film about violence was Brazil's CITY OF GOD. Women barely get a look-in in this gang war epic that proved the hot ticket of the main selection, even though shown non-competitively. (Many thought it would have stashed the Palm in its pocket if  eligible). For two hours the 'favelas' of Rio – those 20-miles-away slumlands where officials hope to quarantine violence by sequestering it (dream on) – riot to an astonishing montage of stories and character dramas. Murders happen every three minutes (rough count). Kids learn to knife or shoot from age eight. Drug fiefdoms and their permits-to-tyrannize change hands like baseball cards. Blood keeps hitting us in the eyes. Bodies keep hitting the street. Horrible amazements, chastening calamities, never let up.
The filmgoer picks his jaw up from the floor so often that he might as well leave it there. Brilliantly acted by a cast hand-picked from the favelas themselves – 4000 auditionees whittled down to 200 roles – the movie is shot by young admercials graduate Fernando Meirelles as if MTV had sent him to Hell and told him to jazz it up only where needed. Jumpcuts; color filters; fast motion; whippy montages that backstory new characters in ten seconds flat. It ought to be over the top, in the event it's coruscating. You have no time to be jaded. Just when you think the film is too in-your-face Meirelles comes even closer and it's in your brain. When that wears off, he comes closer still and it's in your heart. A scene with two tiny kids facing a gun barrel – "Foot or hand?" they are asked – is so harrowing you want to go away and weep. Instead you stay and weep, knowing you aren't going to get such a humane lesson in the horrors of truth anywhere else.
Meirelles was dubbed a 'new Scorsese' by some pundits. To help us judge, who should limo into La-la-land but Marty himself? Little Italy's Mighty Atom came to show-reel 20 minutes of his period-set GANGS OF NEW YORK, a film that it's now become a joke to call 'long-awaited.' If we wait any longer most of us will playing harps in the Afterlife Philharmonia, Max Steiner conducting. (It was first due out last fall, then last Christmas, then spring…). What Harvey Weinstein of Miramax had said to Scorsese about cutting the film down, and what Marty had replied("******!!!"), were put off-limits while the director of MEAN STREETS and RAGING BULL went on stage, paid a preludial tribute to the dead Billy Wilder (plus clips), then showed the goods. And how good they looked. Leonardo DiCaprio, Daniel Day-Lewis and Cameron Diaz blaze and babble in the biggest sets that Rome's Cinecitta has seen since CLEOPATRA. 1850s New York was evidently a cross between Babylon and a blockbuster production of LES MIS, with costumes matching the latter and elephant-sized scenery rivaling the former.
Leo looks larky in a boyish scribble of beard and acts his best since TITANIC. (Which, all right, only excludes CELEBRITY and THE BEACH). Cameron shows she's gorgeous even in rat-tail hair and clothes Shani Wallis might have worn in OLIVER! And Daniel Day-Lewis came out of retirement as a shoemaker in Florence – absolutely true, if you were wondering where the star of MY LEFT FOOT and THE AGE OF INNOCENCE had got to – to re-hammer his histrionic talent as a gang chief with size-12 mustaches and a booming Noo Yawk accent.
Juror Sharon Stone warmed up the picture-snappers lining the Palais steps awaiting Leo and Cameron with her own 10-minute photo-op. And what an op. Clad in a shoulder-exposing sky-blue dress with oyster-shell fluting and pleated skirt; her blonde hair cut in a Winged Victory backsweep, Sharon posed, twirled and camped it up on the red-carpeted steps as if her whole career had led up to this moment. A real trouper showing them how these things are done. We cooed, gasped, tittered and trilled.
The red carpet is a great place for meeting people. You could hang out all day if you had a dinner jacket and magic press card, meeting the stars and being treated like one. The gracious Christine Aime – the most human festival press boss in human history – smiles encouragingly at journos scrambling to hit the Salle Lumiere before morning zero hour (8.30am). And then there is Gilles Jacob, eminence far from gris, still the senior ambassador for the festival's charms, exchanging handshakes and French-style kisses  – the both-cheeks not deep-tongue variety – with everyone from Emmanuelle Beart to Martin Scorsese. Even the swollen army of security folk this year, searching our bags for items more dangerous than sun lotion and copies of Daily Variety, said a friendly "Bonjour" and smiled "Bonne Projection!" (Airports of the world – take note).
So. Who were the favorites as time ran out on the Azure Coast? In addition to those cited – Leigh, Anderson, Kiarostami, – the front-runners had to be four: Aki Kaurismaki's much-loved THE MAN WITHOUT A PAST, Roman Polanski's soberly crafted THE PIANIST,  David Cronenberg's sinisterly phobic SPIDER and Ken Loach's Scottish slice-of-life SWEET SIXTEEN.
*** Is this is the first Loach film since the Golden Palm-winning KES to boast a teenage hero? Not quite, but 16 is young for an otherwise quintessential Loach protagonist (Martin Compston) grubbing for survival in a realist Britain where poverty, joblessness and petty crime mingle in a melting pot of subclasses and street accents. Compston is a Clydeside lad promoting himself dangerously from ciggy-vending to drug-dealing and then to doing 'jobs' for the local Mr Big: all to finance a home for drug-jailed mum when she exits the hoochow. The movie lams along sweetly, though its plot is somewhat in hock to MY NAME IS JOE and most of its characters could have been swept up from almost any prior Loachwork.
** SPIDER is David Cronenberg doing Art, a spectacle that impresses many but depresses me. Would you really rather have THE NAKED LUNCH and M. BUTTERFLY than RABID and VIDEODROME? Cronenberg was once a mad sci-fi Goth. Now he tippy-toes through counterculture moodworks like Patrick McGrath's novel about a vagrant schizophrenic (Ralph Fiennes) who checks in at an old folks' boarding-house whose proprietress might be the ex-floozy and murderess who helped his unfaithful dad (Gabriel Byrne) kill his mum (Miranda Richardson, also playing two other roles). Flashbacks are spun like spider's webs and are just as subtly treacherous. What happened for real and what happened, and may be still be happening, in Ralph's head? Fine if you like a cross between a Hammer horror pic and LAST YEAR IN MARIENBAD; and Fiennes relishes his mumbling, quirky character turn. Others, wait for Cronenberg's next zappy bloodfest.
*****Polanski didn't film his own boyhood story of growing up as a guest of the Holocaust. But those memories, on his own avowal, inform and inspire THE PIANIST. If there is nothing quite as quirky here as the young Polanski's use of a false foreskin to fool Nazis searching for signs of Jewishness, there are craft, skill and encompassing period detail in Ronald Harwood's screenplay based on the memoirs of Nazi-evading pianist Wladek Szpilman. Adrien Brody plays the Jewish ivory-pounder whose family is hauled off to Treblinka while he escapes to survive from day to day in bomb-pounded Warsaw. Immaculate photography; good acting; and moments of heart-seizing shock, like the wheelchaired old Jew tipped off a balcony when he won't stand up and salute. It is the genius of the director of REPULSION, CHINATOWN and TESS to make the terrible seem casual and the casual terrible. From a line of Jewish laborers believing they're safe from death because they carry work cards, half a dozen are picked out to kneel and be shot in the head. A family flushed from an apartment building is allowed to flee down the street – and to be picked off by bullets one by one. Brody's performance fits this nightmarish world of sudden horror and insouciant nightmare. Fear creeps out from deep inside him; the outside is all stoicism, eyes of darting intelligence, and quick speech rhythms that like those of many  actors here – including Frank Finlay and Maureen Lipman as Szpilman's parents – brilliantly suggest, without mimicking, foreign inflection.
**** Kaurismaki has been on the edge of a big festival win for 13 years, ever since the funky-forlorn Finn broke over us, in a wave of droll inertia, with LENINGRAD COWBOYS GO AMERICA. THE MAN WITHOUT A PAST is as adorable as a dog that wanders in through your front door, seemingly unowned but with two melting eyes that look straight up at you requesting love and refusing denial. If outlined to a Hollywood studio, the script might provoke impatient cries of "Where's the plot?" A mugging victim loses his memory, becomes a docklands down-and-out, pals up with a Salvation Army lass, grows potatoes, sits around, looks at the sky…But as in all good Kaurismakis the central question is reverberant: "What's the difference between life and death? And does it matter?" (Two questions). The colors are straight out of a 1950s faux-naif paintbox. The acting is in stand-and-deliver style, somewhere between Robert Bresson and Jack Benny. The jokes are a treat, all the more for never being treated as jokes. And ultimately the film achieves more by standing still, spiritually and existentially, than many films manage by screeching through a hundred plot stations accompanied by music, mayhem and message-mongering.
We at Cannes 2002 should know. This was a manic, movie-intensive festival. We haven't even had time to lavish lexicons on those films that came to fight and stayed to be slaughtered. "Morituri salutamus" should have been the cry of Cannes cannon fodder such as Jia Zhang-Ke's UNKNOWN PLEASURES (cataleptic Beijing street drama), Manoel De Oliveira's THE UNCERTAINTY PRINCIPAL (panto-with-attitude from the potty Portuguese) and Brian De Palma's loopy thriller FEMME FATALE, which begins with a daring jewel heist at the Cannes festival lui-meme and then disappears up its own mazes of pointless ingenuity.
But then nothing American, let's face it, could beat Alexander Payne's late-showing delight ABOUT SCHMIDT. This comedy about Americana – mobile homes, New Age mothers-in-law (Kathy Bates) and aging insurancemen (Jack Nicholson) who want to touch base one last time with God's Little Acre before going up to God's billion-hectare place in the sky – crackled blissfully for Anglophones while leaving the French bemused. "What ees thees?" they all but muttered, stymied by jokes about jacuzzis, waterbed salesmen, occupational therapists and the tendency of the Midwest to spread in all directions like a molten map of Purgatory. Nicholson, in sublime form, deserved every prize possible. Would fellow yanks David Lynch (Jury prez), Sharon Stone and Co. help him to Best Actor?
AND THE WINNER IS..
Roman Polanski's THE PIANIST. We salute the deserving. We honor the honorable. Way to go, Roman!
Grand Jury Prize: Aki Kaurismaki's THE MAN WITHOUT A PAST, also grabbing Best Actress for AK's favorite waif Kati Outinen. Best Actor: Olivier Gourmet in the Dardenne brothers' LE FILS (carpentry and Christ parallels in the deft if dour tale, from the makers of the 2000 Golden Palm-winner ROSETTA, of a joiner apprenticing the young ex-con who killed his son). And a Best Director prize divided between Paul Thomas Anderson (PUNCH-DRUNK LOVE) and South Korean veteran Im Kwon-Taek, who merrily washed the screen with water colors, on the last day of the Competition, in the true tale of artist-wastrel Jang Seung Up who liked a drink whenever he could get one. And we mean whenever.
Sound man. Reach me a glass of Dom Perignon. Transport me painlessly to the Carlton Terrace. Goodbye, Cannes 2002. Here's looking at you, Cannes 2003.
COURTESY T.P. MOVIE NEWS
WITH THANKS TO THE AMERICAN FILM INSTITUTE FOR THEIR CONTINUING INTEREST IN WORLD FILM.
©HARLAN KENNEDY. All rights reserved.