AMERICAN CINEMA PAPERS
<![if !vml]>
<![endif]>PRINT ARCHIVE
2009
<![if !vml]>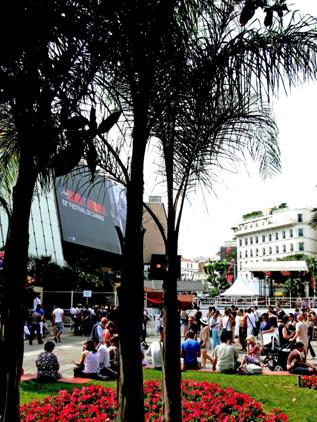 <![endif]>
<![if !vml]>

<![endif]>Click here for:
 THE 62ND CANNES FILM FESTIVAL – 2009
<![if !vml]>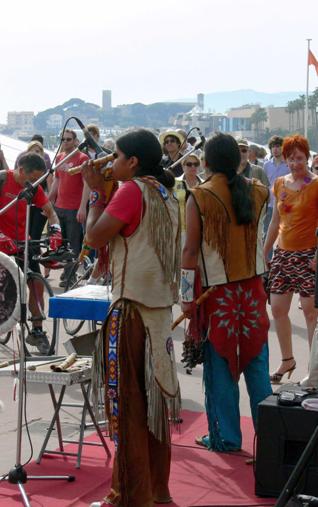 <![endif]>
<![if !vml]>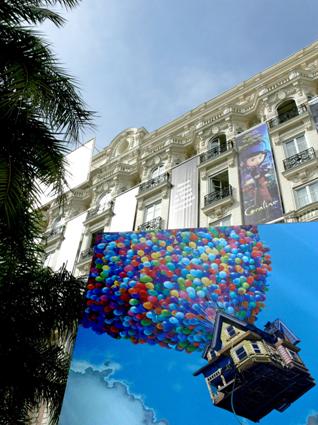 <![endif]>
<![if !vml]>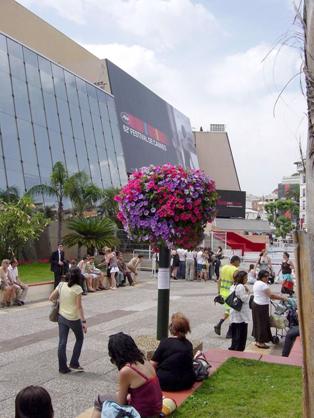 <![endif]>
<![if !vml]>

<![endif]>Click here for:
TARKOVSKY – A THOUGHT IN NINE PARTS
<![if !vml]>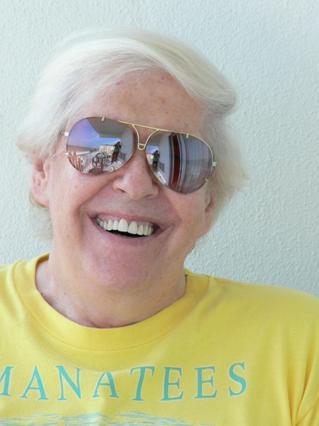 <![endif]>
CANNES SCREENS 2009
ALL THE WORLD'S A SCREEN
by Harlan Kennedy
For any film fan it was a sprocketful of miracles.  Twelve days of cinema obsessed with cinema.  The 2009 Cannes Film Festival brought to the Azure coast intertextuality, metafiction, self-reflexiveness and any other word you want to hook – like a silvery leaping fish – from the sea of postmodernism.  Variety had its characteristic headline: "Flix big on flix in Gallic sticks."  The French, with their Pythian pithiness, said simply: "Le cinema, enfin, c'est le cinema."
Yes:  movies about movies.  Films that use cinema as background enrichment, integral plot or explosive historical catalyst (INGLOURIOUS BASTERDS). Nearly all the directors were at it, though principally and most inventively Pedro Almodóvar.  Marco Bellocchio and the Basterd d'Honneur himself, Q. Tarantino.
Is it an accident that 2008 and 2009 are centenary years?  Ten decades ago in America DW Griffith made his first film and founded America's first great production company Biograph.  In France Pathe, soon to dominate Europe, was founded.  As success has many fathers cinema has many birth dates, but the end of the 20th century's first decade must count as one major moment of nativity.
Bellocchio's VINCERE is full of the excitement of early cinema, of an era when celluloid began to germinate, in the seedbed of popular culture, not just as an entertainment mode but as an instrument for political propaganda.  Many scenes in VINCERE are set in movie theatres, where newsreels and patriotic films are like lightning storms agitating public conciousness.  In one scenic tour de force, Bellocchio sets two opposing political factions  each others' throats in an auditorium, their silhouetted affray – filmed as if from the back of the stalls – mimicking the chiaroscuro ballet flickering above their heads.
Later in the movie Mussolini himself towers on black-and-white screens, his lordly and preposterous chin jutting up, like some mad punctuation point, at the end of each fiery phrase in his rallying speech.  It wouldn't work on TV, this dementia de grandeur.  But TV hadn't been popularized.  Back then the audiovisual image was gigantic, elevated, mythmaking.
Tarantino honours cinema with similar powers – or by means of symbolic fantasy even greater ones in – INGLOURIOUS BASTERDS.  Here the French Jewish girl (Melanie Laurent) who escapes the Nazis in scene one survives to take over and manage a Paris cinema.  Somehow, by the contrivances of Tarantino's plot (inspired by, but upping the ante on, Enzo Castellari's 1978 pic of the same if correctly spelled title), Hitler, Goering, Goebbels and Bormann are all lured to this modest ficker-palace. The occasion is the gala premiere of a patriotic war romp, a sort of SERGEANT YORK gone Nazi.
Here the explosive potential of nitrate film, helpfully explained to us in a half-minute lecturette shoved into the narrative by Tarantino (nice Dada-Brechtian touch), is employed to blast the Third Reich basterds to hell. By this point Tarantino's movie has become at once uncontrollably surreal and unrestrainedly gung-ho, a mixture as unstable as the pile of celluloid behind the screen which waits to be ignited.  At Cannes the director was visibly tickled – which with Tarantino means nearly falling off the press-conference dais with geeky enthusiasm – by the notion of cinema defeating Nazism.  It didn't actually do so, of course.  But one of the powers of moviedom is that we believe what we are told, at least for the three hours of the movie.
Pedro Almodóvar's BROKEN EMBRACES completed a triptych of films that made love, in differing fashions, with filmmaking.  Here the entire plot revolves around a movie; and not just the feature film that is in production and its maker (Lluis Homar), but the 'making of' film being shot around it by a creepy young man (Ruben Ochandiano) who may be the product of another kind of 'making of'. Whose son is he?  Where does he come from? Is he, in the technical rather than Tarantino sense, a bastard?  What does he want?
In the magnetic force-field that is a movie set, the fictive and melodramatic actions performed for the camera infect the 'real' actions done by people off camera.  Or is it the other way about?  Either way, BROKEN EMBRACES proposes a world where humanity is welded to its fantasy life and to emotions enriched or elaborated by the templates we see in fiction.  One could argue – and more than one Cannes critic did – that Almodóvar is beginning to get lost in his own mazes of metafiction: that the Pirandellianism of his stories is becoming as overwrought as the emotions of his characters.  The counter-argument is that cinema, of all arts, has never been an innocent mode of representation.  There have always been delirium, rapture, identification, absorption.  They come with the territory, the territory being a gigantic expanse of light-reflective fabric pulsing and shimmering with action and passion, motion and emotion.(Boy, do we talk at Cannes….)
Yes, cinema was everywhere and everywhere was cinema. Sometimes for good, sometimes for bad.  Lars von Trier got hooted for dedicating, in the film's end credits, his blood-drenched metaphysical shocker ANTICHRIST to Andre Tarkovsky.  Did he think the film was Tarkovskian?  Wish on.  And the spirit of Buster Keaton, like lettering running through seaside rock, permeated the gnomic Israeli comedy THE TIME THAT REMAINS, whose director-star even looks like Old Stoneface, though he has a long way to go to match the skill and insouciance of his ancestor's gags.
More beguiling were Greece's DOGTOOTH, top prize winner in the 'Un Certain Regard' sideshow, and Disney-Pixar's UP, which opened the main competition.  (But I'm still waiting for my free balloon). In the first, written and directed by Yorgos Lanthimos, the reclusiveness of a family whose grownup children have been kept sealed off from the world since birth, by parents who have turned paranoid protectiveness into camouflaged imprisonment, is broken open by a daughter's chance access to a ROCKY video.  Suddenly she goes about the house jabbering lines from the Stallone boxing romp.  Not even a determined mum and dad can contend with the liberating kitsch of a Hollywood pop classic about triumphing over adversity.
As for the digimation extravaganza that launched Cannes 2009, it begins in a glory of pastiche work.  Spoof-recreating a pre-war 'Movietone News" item, UP takes us all – even those too young to have been there before – to the days when screens were big, burbling and in black and white.  Lobbing graphics with the zest of VINCERE, it honours a heyday long gone from the cinema but never from the hearts of those who grew up with it.  Back then, giants stalked the magic light-patch called a screen.  It seemed a world of enchantment even when the giants were real, and when the beanstalk of magic that was an evening at the movies had sherpa'd us only as far as the newsreel.
Even from those reality altitudes we got a dizzy view.  For that was cinema, and in the giant screening spaces of Cannes that still is cinema.  Thousands gather together, in a palace where your mind can wander, looking up at a portal into the perception big enough for all to pass through, experiencing common thoughts and exalted, thrilled or catharsised by common emotions.
COURTESY T.P. MOVIE NEWS.
WITH THANKS TO THE AMERICAN FILM INSTITUTE FOR THEIR CONTINUING INTEREST IN WORLD CINEMA.
©HARLAN KENNEDY. All rights reserved